The Coleman Quad LED Lantern is perfect emergency lighting option during a power outage.
My experience with flashlights has never been very good, as they always have a tendency to betray you when you need them the most. Imagine my surprise when I switched on my fully charged flashlight during a power outage and it turned off within half an hour of use. However, my concerns with emergency lighting were laid to rest when I bought the dazzling Coleman Quad LED Lantern.
Features
This lantern is the perfect solution for any kind of outing, camping, power outage or emergency. It comprises of four separate light panels having 47.5 lumens, each of which slides back onto the lantern giving a total of 190 lumens worth of light when all panels are placed together. Moreover, you don't have to worry about recharging these panels as once they are connected to the base of the lantern, powered by 8 D-cell batteries, they are automatically charged. Furthermore, the Coleman Quad LED Lantern can be used one panel at a time, since each panel has its own On/off switch which makes it easy to save on power and thus extend its operating time. The lantern along with its power source weighs 6.15 lb with dimensions of 6.5 x 11.7 in.
Durability
So what is the durability of this LED Lantern you may wonder. Initially, I too had my doubts about its run time, but I was thrilled to know that the complete lantern can actually last up to a whopping 75 hours, and each panel which runs on a rechargeable NiMH battery lasts for an hour and a half before you attach it to the lantern dock for recharge. The illumination of these lights stretches across 26 ft of area, thereby giving you optimum vision on the darkest of nights.
Safety
The panels are convenient to carry individually considering that each of the panel has its own handle along with the complete lantern, which has a handle of its own too. Besides, the cool running LED ensures that the panels are safe to touch and the LED's glare is reduced by the diffused lenses. You need not fret anymore about carrying an emergency light on a damp cold night as the Coleman Quad LED Lantern is resistant to rain and splashing, which makes it all the more effective.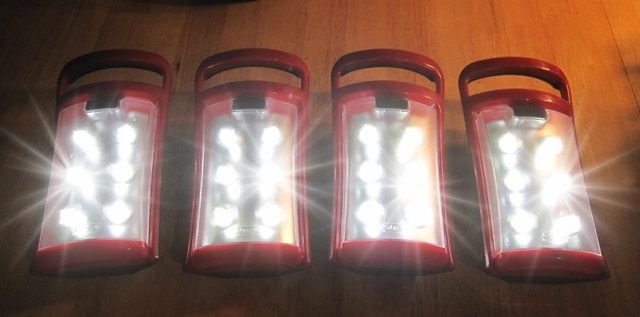 Verdict
On the whole, the lantern is nothing short of perfect with its plethora of benefits. What I find most appealing is its dependability as its extended run time guarantees you do not have to stay in the dark. Whether it is a camping trip, a lasting power cut or a car emergency, this lantern caters to all your needs without fail. In addition, it comes with a 5 year limited warranty and the LEDs never need a replacement. How is that for a promise? So, give the Coleman Quad LED Lantern a try; I assure you it will be certainly worth your while.