This amazingly delicious Grandma's homemade basic chicken broth soup is the perfect thing to serve to a loved battling the cold and flu.
Through all of the coughing, runny nose and upset tummy comes the need for a homemade basic chicken broth that is soothing to the throat and easy on a queasy stomach.
LOOK BELOW the ad for the rest of the recipe.
Ingredients:
1 chicken quartered

3 1/2 quarts water

1 large carrot

1 medium size onion

1 rib celery

3 sprigs fresh parsley

1 teaspoon salt, or to taste

1/2 teaspoon whole black peppercorns
Directions:
You'll need a heavy 6-quart pot, preferably not aluminum, with a cover.

Put chicken in pot; cover with water.

Cook over medium-high heat until water comes to a boil.

Reduce heat and simmer uncovered about 45 minutes, skimming off foam as it rises with a slotted spoon.

Add remaining ingredients and simmer partially covered 1 to 1 1/4 hours longer until chicken is very tender and falls off the bones.

Leave chicken in broth until cool enough to handle. Remove with vegetables, using a slotted spoon.

Discard bones and skin; cover and refrigerate chicken. You should have about 2 1/4 cups of dark and 2 cups of white meat from a 5-pound stewing hen. Wrap vegetables separately.

Strain soup through a fine sieve and refrigerate overnight. Remove fat that has solidified on surface.
Makes about 2 quarts (8 cups).
.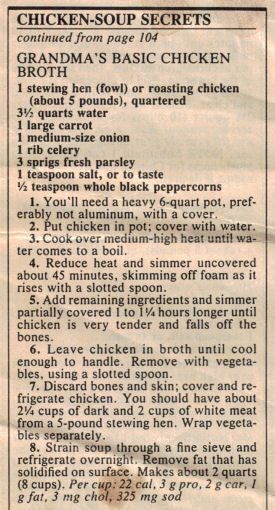 [amazon-related-products keywords="chicken soup"][amazon-related-products keywords="crockpot"]