This inexpensive headache relief cure due to dehydration requires no medication to stop the throbbing pain, light sensitivity and dizziness. Dehydration usually means a person has lost enough fluid so that the body begins to lose its ability to function normally. Headaches are just one symptom to alert the individual to consume hydrating fluids.
Most people do not even realize that their headaches are due to dehydration – not drinking enough water basically.
Drinking carbohydrate/electrolyte containing drinks such as Gatorade or Pedialyte can help replenish the body more quickly therefore making the headache disappear.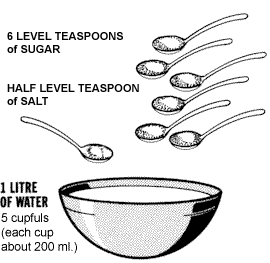 Homemade Oral Rehydration Salts Recipe
6 teaspoons of Sugar
1/2 teaspoon of Salt
5 cups filtered water
Preparation Method: Stir the mixture till the salt and sugar dissolve.
Click here to read about a quick Headache relief cure due to dehydration:
.
.
.