A full review of a WiseWay Pellet Stove from The Homestead Survival website shares how this wood pellet stove can heat your home comfortably.
While the pleasantness of the winter spell cannot be denied, I for one am not particularly fond of chilly temperatures and the idea of cold freezing nights just sends a shiver down my spine. Being one of those few people who feel unusually cold, I am a fan of a warm cozy home. We were looking for an environmentally friendly and economical way to heat our home. We did a whole lot of research online and discovered that wood stoves are a popular way that people in our area heat their homes. That gave us a starting point and we eventually came across pellet stoves. This type of unit burns fuel in the form of small wood pellets.
While most pellet furnaces operate in the same general way, they are not all equal, we discovered one in particular that is completely different. It is made by a company called Wiseway and its design makes it much more user friendly as well as being environmentally friendly.

I have tried numerous pellet stoves but to no avail as they all share the problem of going off during a power outage and not to mention the occasional breakdowns and heavy maintenance required. But recently I found an answer to my prayers with the all new EPA-certified and OMNI-listed Pellet Stove by WiseWay and I'm not quite sure whether it was the pellet stoves' non electric functioning, its portability or its eco-friendliness that had me spellbound.
Steering clear from the conventional stoves, the latest WiseWay pellet stove is nothing short of excellence in keeping your home warm and cozy. To top it all, the GW-2014W is the first and only EPA certified pellet stove available in the market. Its 75% fuel efficiency boasts a very well thought of system, not to mention its heating capacity which ranges from 800 to 2000 square feet of space making it all the more resourceful. Another plus point of this one of its kind stove is that it is devoid of any fan or augur noise which is a common occurrence in other stoves and has a decent emission rate of 1.9 grams per hour.
The best part is that you can rest knowing that a 40lb bag of pellets is sufficient to keep it working for 31 hours on low and up to 12 hours on high. If you are thinking that this stove is limited for home use only then you are clearly wrong, as its wheel attachment makes it suitable to move around and heat any dwelling whether it is a home, shop, garage, tent, barn or cabin.
The Model GW-2014W has a special feature that adds a special touch to the stove and it is a window that allows viewing into the furnace part of the stove. We like to refer to it as the fireplace that we don't have.
Key Features
Functions
The WiseWay Pellet stove is similar to a wood stove as it uses natural draft but what's different about it is that it also uses a specially designed fuel which helps in generating an accurate level of heat to the user. The stove also encompasses a specifically devised burner system which can function on a continuous feed without requiring any mechanical input.
Moreover, the modern stove also enables the user to manually control the heat that is created without relying on electricity. As if this mechanism wasn't genius enough, the stove can also be used as a power source with the addition of a water jacket which can heat water converting it into steam thus leading on to charge up a battery system that could power up lights and other electronics.
Pellet Fuel
We discovered that wood pellet fuel is used in the heating more than a million homes across North America. Wood pellets are a highly efficient, biomass fuel made from recycling wood waste. The burning of the pellets produce a consistent amount of heat and at the same time only give off a fraction of the particulate pollution from other fuels.
One feature of the stove that impressed me the most is its ability to function devoid of any electrical power. The concept that makes this mechanism work is the use of a natural gravity feed system which also alleviates the problems of mechanical failures and costly repairs which are typical in standard pellet stoves.
Furthermore, the WiseWay stove does not require a blower to heat it up but a blower can be accessible to those who want the heat to spread quickly across the room. To complete the look of the stove, an echo fan is also attached which functions on the heat formed by the stove. The stove though unusual has a unique appearance which may attract a quizzical glance or two at first sight. However, regardless of its looks, which you are sure to get accustomed to, once you realize the true potential of this effective device you are sure to warm up to it.
● Gravity fed pellets
● Electric free heating
● EPA certified energy efficiency
● Eco-friendly biomass fuel
● Sturdy, all steel construction
● Glass viewing window
Pros
● Helps to eliminate tons of waste from landfills
● Reduces tons of CO2 emissions as compared to fossil fuel
● Capable of heat a whole house up to 2000 square feet
● Perfect for off the grid living
Cons
● Requires the expertise of a chimney installer to put it in (Honestly, we figured it out ourselves quite easily)
Damper opened and closed
Installation (Set Up)
Assembling the apparatus is a piece of cake as you have to follow very simple steps to get it in shape. Initially, you may require some needle nose pliers to fit in the temperature gauge and once you are done, you can easily fix the damper slide by sliding it into the right position, as it only fits one way. Next you need to use a pair of screw drivers and turn them clockwise to secure the damper slide. Last but not the least, you have to place the primary burn tube, the secondary burn plate and finally the ashtray tray in this exact sequence. The stove and chimney system is too risky and hazardous to be handled by the user and hence the pipes should be installed by professionals only.

Glass Viewing Window
Cleaning and Maintenance
One of the reasons we liked the GW-2014W was that we were assured that there would not be nearly as much maintenance involved. By replacing the typical auger mechanism (found on most other brands) with a gravity feed system, we don't have to worry about periodic maintenance or repairs. We were told the only real thing we should have to worry about is keep it clean and free of buildup inside the pellet feed chute, exhaust stack/smoke stack.
The cleaning of the stove may require you to put in some extra efforts, and to begin with, you need to set a schedule for its regular maintenance. You can keep a check on the residue buildup till you figure out how often it requires cleaning which may turn out to be once in a week depending on its use.
Creosote is the result of fuel burning slowly which produces tar and other vapors combined with moisture in the environment. When the fire burns slowly, creosote accumulates on the chimney flue lining making it a potential hazard as it can create a strong fire the next time the stove is lit up. To avoid any mishap you should examine the chimney every now and then, especially when you overuse the stove. Find out if there is any creosote build-up, and if found, get rid of it as soon as possible.
Taking preventive measures always works best for you when dealing with a complex system such as the WiseWay pellet stove. You should make use of a steel container with a lid to collect the ashes and ensure that the container is placed on the ground to avoid contact with combustible materials. Once the embers have cooled down they should be securely carried in the container and buried underground.
While cleaning the stove you may notice particles of fly ash that may be present in the exhaust venting system and prevent the easy flow of flue gases. An incomplete combustion process during startup or faulty operation will produce some soot that will amass in the exhaust venting system. Therefore, the exhaust needs proper supervision and requires to be cleaned at least once a year.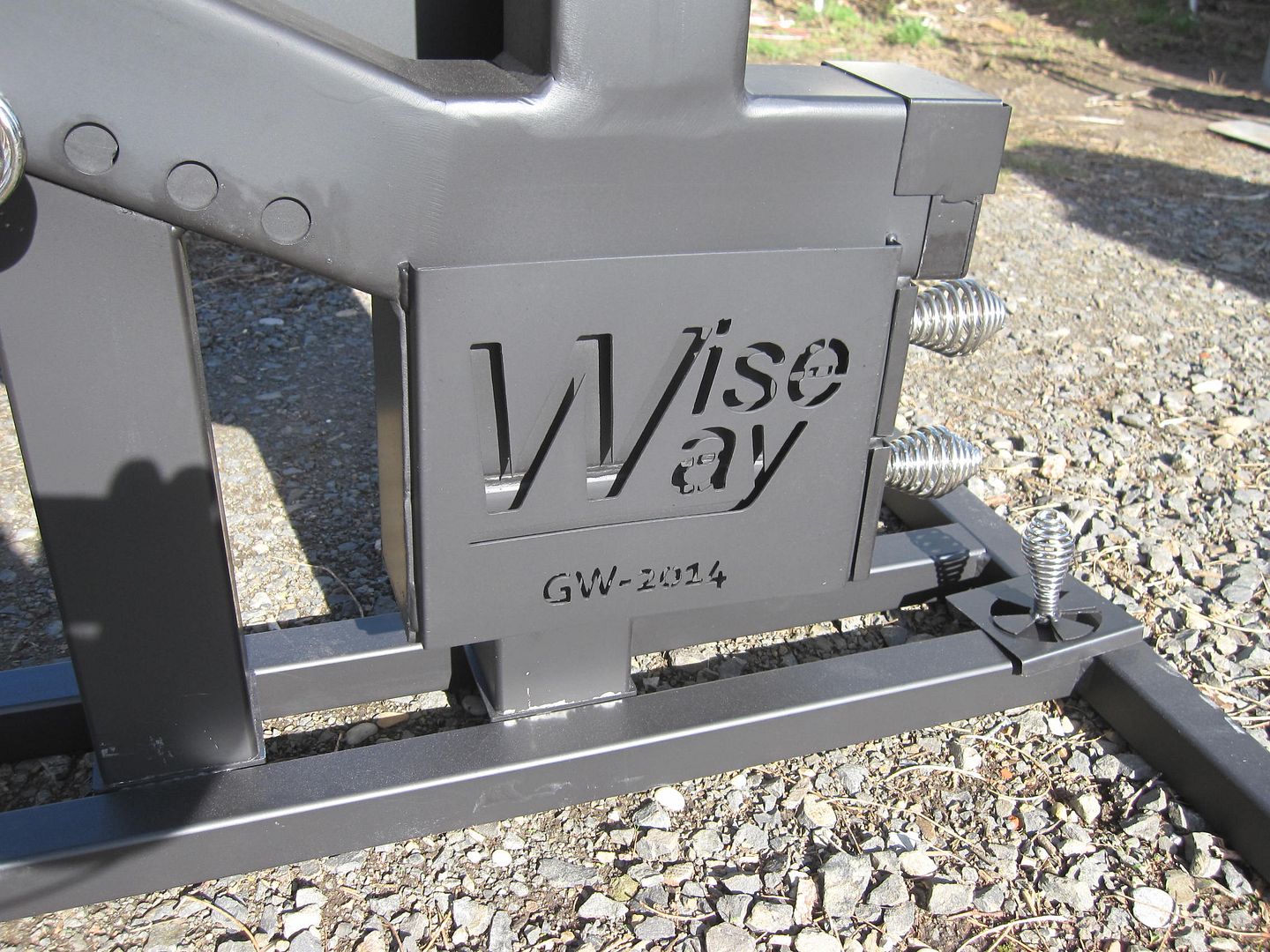 Optional Accessories
There are a couple additional options that can be added to your GW-2014W Pellet Stove in order to make it a little better. While the stove produces plenty of heat and radiates it into the room, sometimes it needs a little boost. An optional fan can be attached to it which will help to push the warmth out into the room. These small echo fans do not use any electricity to run.
The GW-2014W was designed to be able to move it from room to room and to make it much easier to do this, you can purchase an optional set of wheels. By attaching the wheels to the front of the frame, you roll it from place to place.
Safety
WiseWay has left no stone unturned to ensure the safety of the wood pellet stove as it is created by placing high regard to accuracy and with greatest attention to detail. You are guaranteed safety of its components as they meet all the requirements prescribed by national safety standards. While the stove by itself is safe enough, users need to be extra cautious when dealing with it as the temperature of the stove is extremely high during its functioning.
My Final Thoughts on Overall Performance
All in all, the WiseWay Pellet stove is a package full of surprises with multiple uses and benefits to the owner. My experience with this wonderful piece of machinery has only been delightful saving me from the wrath of the winter term and keeping my house heated up to a desired temperature even during icy weather. Not only does it warm the house all winter, but it gives us plenty to talk about when we have visitors to our home.
Based on my personal experience I would suggest you bring this exceptional stove home and let it work wonders for you.
For more information or to buy a Wiseway wood pellet stove: