These 7 Healing Herbal Teas Recipes & What Ailments They Help is a way to focus your favorite beverage into good health.  Do you like to try a natural remedy for what ails you before you go to a doctor for chemical medications?  Herbal tea
remedies can soothe many ailments from anxiety to night sweats and everything in between.
Positive Med website shares seven healing herbal tea recipes and what ailments they help treat.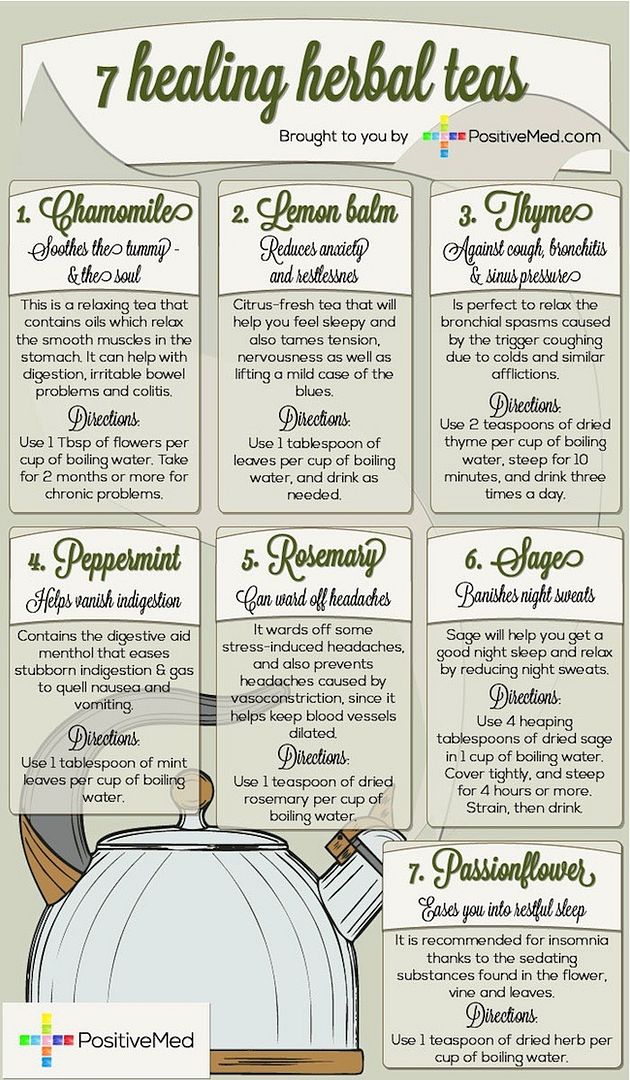 Click here to see in a LARGER form and READ the article:
.
.
Bonus healing herbal teas:
Echinacea tea is said to help heal the common cold. It's powerful herb that contains active substances that enhance the activity of the immune system, relieve pain, reduce inflammation and have antioxidant effects.  http://amzn.to/19iRCzC
Rosehips are the seed-filled red-orange pods that form at the base of the rose bloom. When boiled with water, they produce tea with a tangy, tart flavor and pinkish color. It has a high concentration of vitamin C and is valued for its immune-strengthening properties.
http://amzn.to/16lSR2n
Visit us on Facebook, Pinterest, Twitter, Google + or send an email to [email protected] to join our single daily email that contain all of that day's articles.