This delicious variety of Shish Kabob meat on a stick collection of recipes is a fun way to assemble pieces of meat, fish, or vegetables on a skewer to be roasted over a campfire, grill or even in a oven. Soak wooden skewers in water for at least half an hour before cooking, so that they don't burn, or use metal skewers. Thread your meats and veggies using two skewers instead of one. That way the pieces won't tend to swing around the skewer and there's less chance it will break off. Thread ingredients on two skewers, alternating meat and vegetables. Spray the grilling or cooking surface with oil to help prevent sticking.
The meat can be marinated, then cut into bite-size chunks (about one-inch square), or simply seasoned prior to grilling.
Meat: Chicken, beef, lamb, pork, sausage, bacon
Fish: Salmon, tuna or other firm fleshed fish
Shellfish: Shrimp or scallops
Vegetables: Chunks of raw onion or whole pearl onions, Mushrooms, Bell peppers, Cherry Tomatoes, Zucchini, Eggplant, Yellow Neck Squash, Leeks
Fruit: Pineapple
Enjoy this delicious collection of Shish Kabob Meat On A Stick Recipes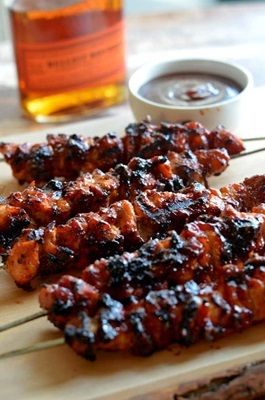 1.  Bacon Bourbon BBQ Chicken Kebabs Recipe – (Click Here)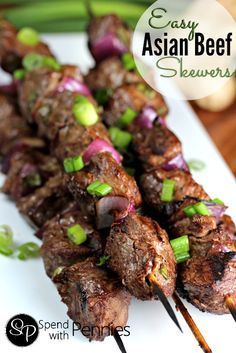 2. Asian Beef Skewers Recipe – (Click Here)
3. Honey Lime Chicken Skewers – (Click Here)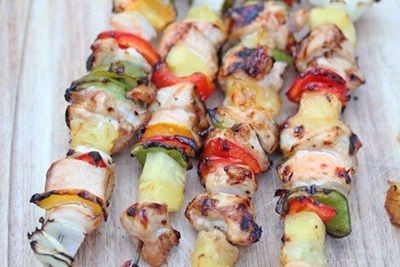 4. Chicken Pineapple Pepper Kebabs Recipe – (Click Here)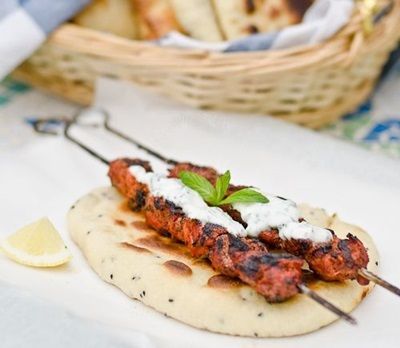 5. Chicken Tikka Skewers with Minty Yogurt Sauce on Naan Bread Recipe – (Click Here)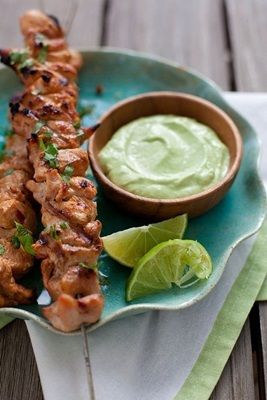 6. Chipotle Chicken Kabobs with Avocado Cream Sauce Recipe – (Click Here)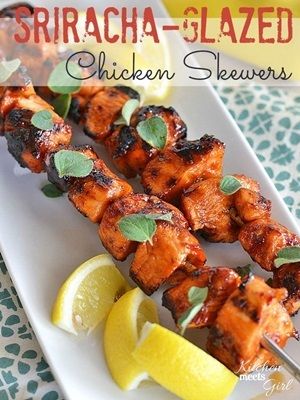 7. Sriracha Glazed Chicken Skewers Recipe – (Click Here)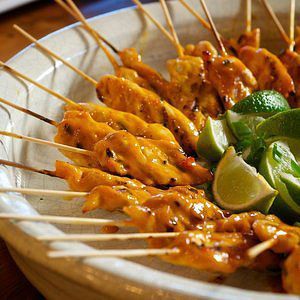 8. Chicken Skewers with Asian Sweet Chili BBQ Glaze Recipe – (Click Here)
.
.
.